Port Authority
Grommeted Microfiber Golf Towel
TW530
Discounts
| Minimum purchase | Discount |
| --- | --- |
| 1 + items | 0.0% |
| 12 + items | 3.0% |
| 48 + items | 5.0% |
| 100 + items | 7.5% |
| 250 + items | 10.0% |
| 500 + items | 12.5% |
| 1000 + items | 15.0% |
More images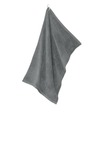 Grommeted Microfiber Golf Towel TW530

A handy silver carabiner allows you to hang this lightweight, absorbent, odor-fighting towel off the golf bag.
85/15 poly/polyamide microfiber
Fully hemmed for a clean look
Dimensions:24.25"w x 15.25"l; 4 lbs/doz.
Quantity
minimum quantity: x available in bundles of: x Product ordered in bundles.
Shipping
logowear.com has a highly developed production and shipping system and we make every effort to ship your order in a fast and effecient manner.